When I started my vacation I also started a new project. One of my favorite designers, Stephen West released not one, but three new shawls for summer. Off course I bought the ebook with all of them as they are all beautiful and I like adding to my growing SW pattern collection on Ravelry. This shawl, Vertices Unite was the one who called out to me the loudest so I decided to go for it. Garter, colours and stripes, just perfect for easy summer knitting.
I had a very hard time picking the colour combo. First I went through my stash and pulled out everything that was in the right weight and mixed and matched what I had. I took some photos and you can see them here.
None of these really jumped out though. Also, I really wanted to put this skein of of Posh Yarns to good use. I have had it forever and for some reason it was calling out to me to finally use it for something.
I only had one left because I gave one to my friend Rósa so I really wanted to find something that would work with it. The yarn has so many colours in it so picking something to go with it would probably not be that hard. The first colour I picked to go with it was my leftover yellow Geilsk wool&cotton mix that I had left since I knitted my Curry Cardigan. So then I needed 3 other colours. So off to Litla Prjónabúðin I went with my yarns.
I added dark and light purple in Geilsk wool&cotton and then this gorgeous skein of Silkbloom Fino from BC Garn. There, I had my colours and yarns so there was nothing left to do but cast on.
Knitting this shawl was fun and easy. The pattern is well written and garter and stripes is just something that never gets old or boring. I had a lot of fun mixing the colours together and deciding what should go where and with what etc. Yesterday I finished it and me and the man went out late list night to take some shots in the beautiful evening sun.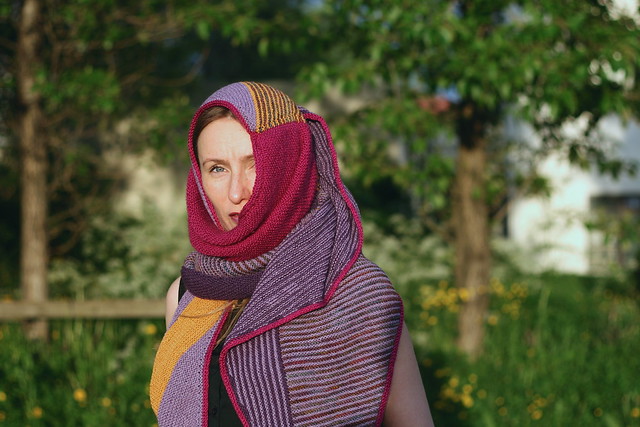 Pattern: Vertices Unite by Stephen West
Yarn: Geilsk 3 ply Bomuld og uld, BC Garn Silkbloom Fino and Posh Yarn Impress
Needles: 3.5mm
Section 1: Posh Yarns Impress and Geilsk Cotton&Wool in light purple
Section 2: Geilsk Cotton&Wool in light and dark purple
Section 3: Silkbloom Fino in pink
Section 4: Geilsk Cotton&Wool in dark purple
Section 5: Geilsk Cotton&Wool in yellow and Posh Yarns Impress
Section 6: Geilsk Cotton&Wool in light purple and a dash of yellow
i-cord bind off: Silkbloom Fino