It has been a good vacation so far. Much of relaxing and some home improvements have taken place, as well as Sumarrós's birthday celebration.
We tore the horrid carpet of the floor in the living room and put down new flooring. We also painted the living room and I almost feel like I moved without the packing and unpacking. It is so cozy and nice to hang out in it now that it is pretty much all we have been doing since we finished.

This is the blanket that got thrown out. It was old and absolutely disgusting.

Here is the new floor! We also rearranged the furniture and it looks much bigger now.

My daughters doing what they do best, being adorable.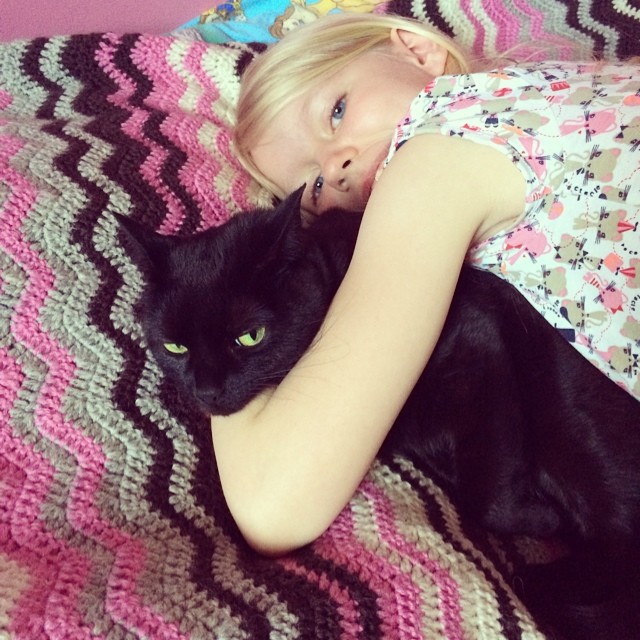 Emma gets her hugs from Karítas.

Karítas finger knitting at Litla Prjónabúðin.

Sumarrós turned 15 (OMG!) on June 14th. She got a haircut and some highlights in her hair.

Off course we invited the family over for some homemade cakes and stuff.

After the birthday celebration, I got a manicure.
I also finished my second seminar at school and got 8,8 out of 10 and was second highest of the 30+ people who were also studying at the same time. I am off school until the middle of August but I go back to work in about a week so I just know I will be super busy until school starts again. And then even busier after it starts. Oh well, it is only for a few months and brings great benefits for us and our future, so it is all worth it.
Karítas is leaving for The Czech Republic with her father and his family on Sunday and will not be back until August. Gah, it is going to be hard being without her for such a long time. She was there also last summer and had a BLAST and we spoke on Skype almost every single day, so I am just going to focus on how much fun she is having and enjoy it through her and her very lively stories and updates that I will be getting from her while she is away.